Another landscape painted in Sketchbook on my iPad.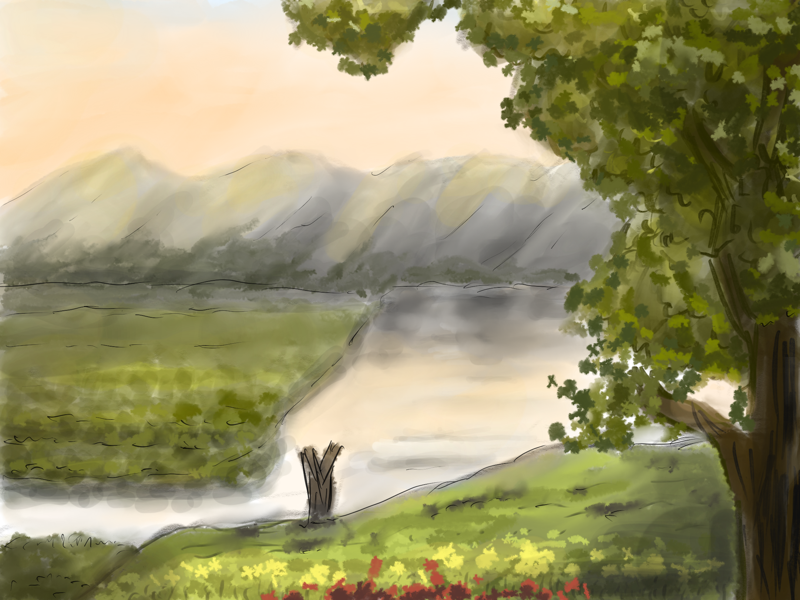 Another landscape, painted using the WaterC brushes in Krita this time.
Like many of my landscapes, this one too is based off one of my photos. The boat in the lake and the man watching from the foreground are my own additions. I am trying to do improvisations like this to develop my skills further. Though I am not totally happy with the level of emulation of watercolour in this attempt I like the brushes enough to try a few more in the future. Now, if only they weren't so laggy on my laptop…
Kolavai Lake Chengalpattu
A painting of Kolavai Lake, Chengalpattu, using Krita with my XP-Pen Artist 10s.
Yet another landscape painting in Krita. I downloaded Krita 5 beta 2 to try out some of its new features. Though I tried the new brushes (RGBA brushes and the water colour brushes) I found the strokes to be extremely laggy on my laptop to the extent that I couldn't create a painting with them. Maybe in future, when I get a more powerful laptop, I might use these brushes. For now, this painting is created using the default "Paint" set brushes.
Kolavai lake is a lake near Chengalpattu in Tamil Nadu and is a beautiful location. It is a major source of water for the nearby districts and is an ecologically sensitive area. I had already painted this beautiful lake a long time ago.