Collabora Office – a full fledged LibreOffice port for mobile devices
Collabora Office – a full fledged LibreOffice port for mobile devices
A while back, I searched for a decent Office suite for opening and editing documents on my iPad and found Collabora Office, a full-fledged port of LibreOffice for Android and iOS / iPadOS. This is one of the few Open Source office suites for mobile devices around and one of the few that are almost as functional as desktop equivalents — most mobile office suites I've found are (a) not open source, (b) feature-limited, (c) not free and/or (d) ad-supported in their free avatars.
You can see from the screenshot that Collabora is LibreOffice, with minor caveats[1] and tweaks for the touch screen. In fact, it features the traditional desktop UI, complete with menubar and toolbar rather than a mobile-centric one, making it highly familiar for experienced LibreOffice users.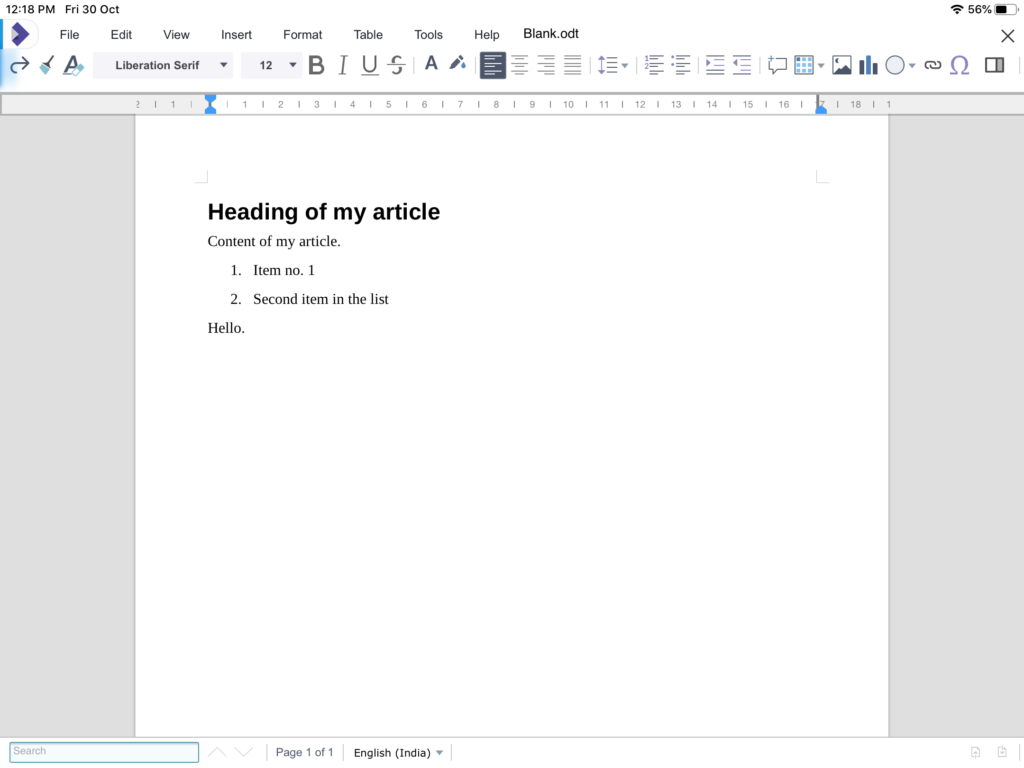 I often make slight edits/modifications to documents within Collabora on my iPad when I cannot be bothered to open my laptop. One minor issue that I found is that the on-screen iPadOS keyboard doesn't seem as full featured as with native Apple software[2]. With a compatible physical bluetooth keyboard, it might be possible to compose longer documents conveniently.
I'm surprised that Collabora Office doesn't appear to be popular enough to merit an entry in most top-10 office suite lists for mobile devices that you can find with a simple internet search.
Collabora features the equivalent ports of LibreOffice Writer, Calc and Impress, which I guess is enough for most of us. LibreOffice Base and a few other components of the full LibreOffice desktop suite are conspicuously missing.[↩]
for example, missing auto-capitalization of the first word in a sentence, unable to type full-stop with two spaces and not working properly with some language keyboards like Tamil Anjal[↩]